Boston's Feistiest Beatles Band
The Nowheremen are celebrating the excitement of the Beatles music in concerts this summer! The group will reprising the joy brought to America a half century ago with an an upbeat show featuring the rock & roll of John, Paul, George, and Ringo. The group had a great concert season in 2019 which included a colorful set of music from our own alter-egos: Sgt. Pepper's Lonely Hearts Club Band. We're looking forward to coming to your town in 2020!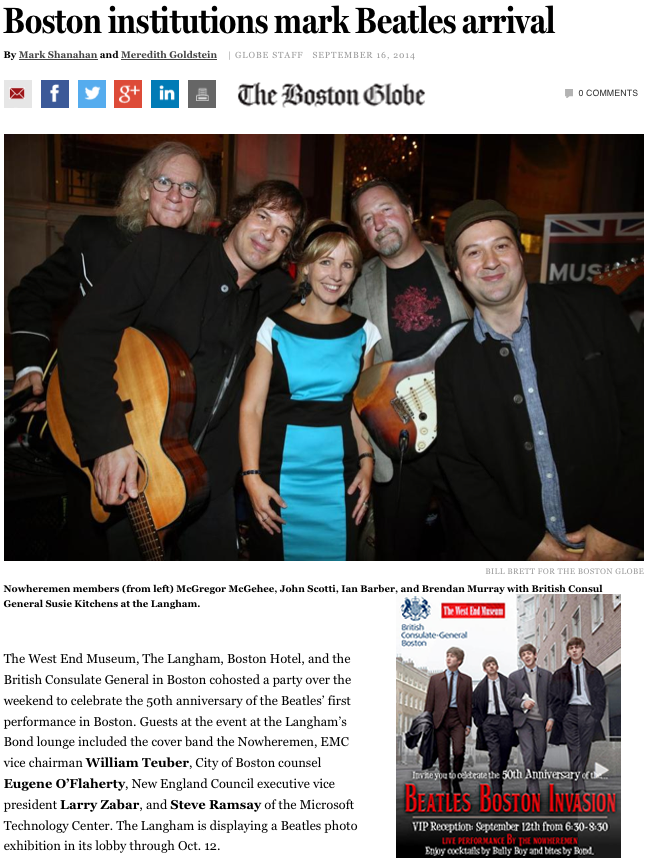 Book the Nowheremen today to play a concert in your venue!

Contacts for booking the Nowheremen:

nowheremenbooking@gmail.com                                                 
http://www.realnowheremen.com
617.285.7046

Biography

Founded in a Cambridge coffee shop during a peace rally in 2007, the Nowheremen will have you dancing and singing!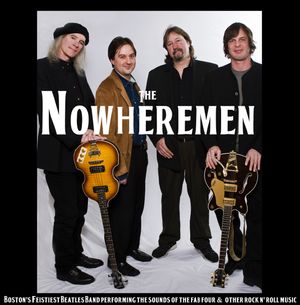 The Nowheremen, Boston's feistiest Beatles band, have packed a lot of living into their time together. They kicked off 2007 by rocking out Governor Patrick's Inaugural Ball, and recently played at Ringo Starr's Harvard Square art gallery opening.

Each Nowhere Man is a powerful singer capable of leading the song or blending in harmony. The quartet remains faithful to the Fab Four's concept of three guitars up front with cuddly drummer in back.

Absolutely no digital gimmickry or taped backup is used. John Scotti of Lincoln and Ian Barber of Lexington play guitars, and Hingham's Brendan Murray plays drums. Bassist McGregor McGehee lives in Dover.

Bookings see these fellows laying aside their vast storehouse of rockabilly, soul, Celtic, pop, and original ballads and rockers to concentrate on reproducing and celebrating the greatest music of our time.

A splendid time is guaranteed for all!